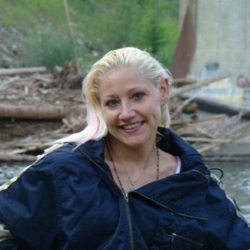 Are you looking for a personal trainer in Calgary?
Personal trainer and health wellness coach with Canfitpro.  
Standard 1st aid, CPR level C and AED.
Areas of focus: Training for weight loss, future ailment prevention, pre and post-menopausal women.
Hi, my name is Andrea.  I'm a certified personal trainer, health and wellness and beauty consultant in Calgary. A little bit about me:  I went to school for Esthetics and from there I started and my own esthetics business out of a gym and gradually got into personal training and I decided to implement both.  I will be able to teach you a proper squat while recommending an eyebrow wax and tint.
Being the baby of 7, my siblings were more like aunts and uncles, my parents were more like grandparents and nieces and nephews more like brothers and sisters.  
I believe myself to be a professional problem solver, anti-aging specialist and an expert on permanent weight loss.  In 1999 my dad developed Alzheimer and through research, hard work, time and money were able to reverse it 
If you are looking for a personal trainer in Calgary
Contact Santé Active 1-888-923-2448