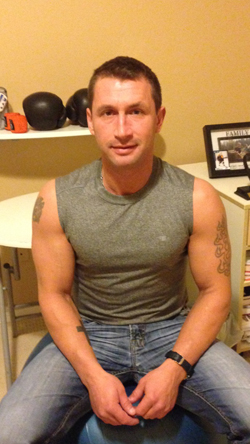 We can help you find a personal trainer in Ottawa - Gatineau
If you are looking for a personal trainer in Ottawa or Gatineau we can help you!  Let us introduce you to Michael one of our trainers in your region.
Michael started living an active life at the age of 4.  He was involved in many different sports such as soccer, baseball and karate.  Throughout his involvement in team/group sports, he received many medals for his persistent participation and performance.  At the age of 15 Michael showed an interest in boxing.  He began to work one-on-one with a trainer to obtain his goals.  Boxing lead him into resistance and cardiovascular training.  He also competed in the sport of boxing.
Michael became passionate about fitness and wellness. Throughout his athletic experiences, he became aware of the great importance of cardiovascular, resistance, and flexibility training.  He continues to self-train and continues his fitness. Michael is educated in the human anatomy; specifically in skeletal and muscular functions.  He has gained experience as a personal trainer with the YMCA and as a freelance trainer. 
He is goal-oriented and is highly motivated to pass on his knowledge and understanding to his clients so that they too can achieve their goals.  Michael believes in setting realistic goals and maintaining a personable client/trainer relationship.
Fitness Basic Theory (YMCA)
Individual Conditioning Level 2
Personal Fitness Trainer (YMCA)                              
Fitness Instructor Specialist (Can-Fit-Pro)
Level 1 Boxing Coach (Boxing Ontario)
CPR Level C & First Aid (Life Saving Society)          
If you are looking for a personal trainer in Ottawa or Gatineau
Contact Santé Active 1-888-923-2448