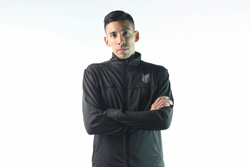 Save time and find a personal trainer in Ottawa & Gatineau
We offer in-home personal training in Ottawa and Gatineau. Paul one of our personal trainers in can bring your training sessions to your home or workplace. 
I was always very active and played many sports but training to be a healthier and better athlete only hit me about 10 years ago when I witnessed a close family member getting sick. This is why I chose to put health at the top of my list. Like many personal trainers, I started with strength training and cardio workouts. Today I'm 29 years old and for the last 6 years I've been practicing MMA (mixed martial arts) which is the highest level of physical conditioning I've ever done and I love it! But that's just me. What do you want to do? Fitness should always be fun and challenging! Forget those boring workouts! Let's train 1-on-1! Let's do some high-intensity workouts! Let's burn that fat away! Let's get you toned and super fit! Want to learn kickboxing? It would be my pleasure! The possibilities are endless! And all of it in the comfort of your home or workplace, all equipment provided. Hoping to see you soon, one love! 
Bilingual CanfitPro Certified Personal Training Specialist • CPR (AED) training (ABC Paramedical Montreal)
Individual fitness assessment
Strength training/ Circuit training
Cardio training
Kickboxing 
Weight management
Nutrition tips for weight loss
"Go beyond your limits, be a super human!"
That's my motto! A healthy lifestyle? I'm all about that! And fitness plays a big part in that journey. If you want to improve the quality of your life you need to make drastic changes and fitness is one of the pillars of health and wellbeing.
If you are looking for a personal trainer in Ottawa or Gatineau
Contact Santé Active 1-888-923-2448