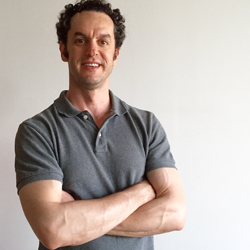 Are you are looking for a personal trainer in Toronto?
Let Santé Active introduce you to Josh our personal trainer in Toronto. Coaching is Josh's passion. He promotes his comprehensive health habits that have been honed by over 20 years in competitive athletics, swimming, dance, and martial arts. Qualified as a CPTN certified personal trainer, an NCCP swimming coach, and a Precision Nutrition counselor he has worked in the fields of physical fitness, occupational safety education, nutrition, rehabilitation and aquatic therapy, and health promotion since 2009.
His clients of all ages, including athletes, exercise enthusiasts, and people with mobility impairments receive personalized fitness and lifestyle plans catered to their capabilities, experience level, and goals. They are engaged in learning by his current and evidence-based ideas.
For a personal trainer in Toronto
Contact Santé Active 1-888-923-2448