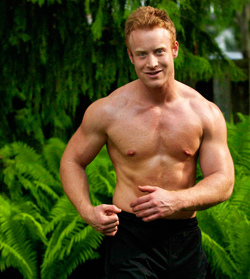 Save time and find your personal trainer in Toronto
My mission in  is to help others succeed while achieving what was never thought possible.  This is what gives meaning to my life.  My passion is personal health and fitness.  As a personal trainer in Toronto I combine my passion and my life mission; training is much more than just a job for me.  Training is a way of life.
I have been involved in the fitness industry for the past 10 years and am certified through Canadian Fitness Professionals.  I have an honours BA in Environment Resource Studies with a focus on environment, health, and nutrition from the University of Waterloo.  I am thrilled with the opportunity to help you transform your life just as I have done!
A few years ago I was overweight and it was having a negative effect in all aspects of my life.  After discovering personal training  ten years ago, I realized the positive impacts it could have on my life.  My life improved not only at the gym but socially, financially, and personally.  I am dedicated and determined to get all my clients to achieve their fitness goals.  I am constantly challenging and encouraging my clients to surpass their physical and mental boundaries with exercise and proper nutritional planning.  I will get you the results you crave with the proper mix of nutrition, exercise, and lifestyle changes.  If you want to get results fast, contact me immediately as my availability is quickly filling up.
If you provide a picture of the body you would like to look like, I guarantee to get you on the right path to attaining your dream body. Ladies do not be intimidated as I am outstanding at toning, defining, weight loss, and sculpting bodies of both men and women.  I will create for you an individualized workout plan as well as an individualized nutrition plan which is Included in my hourly rate.
I am available to answer questions at all times and specialty areas include:
• Muscle Building • Weight Loss • Toning • Cardiovascular Training • Hardening • Definition • Sports Supplementation • Vitamins and Minerals
I am available to train you in my private studio, we can go outside, or I can come to your gym or condo!
Contact Santé Active 1-888-923-2448