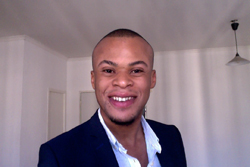 Are you looking for a physiotherapist assistant at your home in Ottawa or Gatineau?
Also referred to as occupational therapist assistant (OTA), physiotherapist assistant (PTA) are members of the health care team who work under the supervision of an occupational therapist or physiotherapist to improve client's physical and mental functioning as well as quality of life.  
Azaria is a well-accomplished individual with academic honors.  With a certificate of personal support worker, a Bachelor In Nursing and first year completion in Masters of Physiotherapy, Azaria has been a healthcare professional for the past 8 years. 
Currently practicing as an Assistant physiotherapist, Health care aid as well as Nurse, this young vibrant and dynamic professional proves that with continuous effort, authenticity and will power, anything is achievable.
Responsabilities:
Implementing the rehabilitation program as directed by physiotherapist or occupational therapist.
Teaching group and individual exercise programs.
Wheelchair mobility training.

Instructing patients in self care and instrumental activities of daily living.

Assisting in making, modifying, and adapting self-help devices and equipment.
Contact Santé Active
1-888-923-2448