Private Yoga and Yoga in the Workplace in Montreal and Laval - Jason Yoga Instructor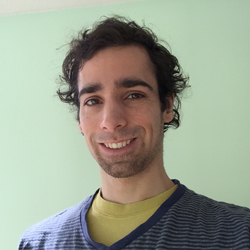 We offer corporate yoga and private yoga in Montreal and Laval
Are you looking for corporate yoga or private yoga in Montreal or Laval?  Contact us and save time we have a team of yoga instructors who can travel to your home or workplace.  Let us introduce you to Jason one of our yoga instructors in Laval and Montreal.
I started doing Yoga 6 years ago when I was a professional athlete at squash, at a time when I was full of injuries and stress. Yoga showed me how to fix my muscle imbalances and keep my body healthy. More importantly, though, it taught me how to relax and enjoy myself through hard times, allowing me to be more efficient and focused towards my goals.
I also love Philosophy, and as a Harvard University graduate, I've spent a lot of time studying Eastern mysticism, learning much about meditation along with the extremely positive effects it can have for living a more balanced life.
I teach yoga simply and directly. It's all about living in the moment, being focused and feeling good. I teach a variety of styles, from the more active Power and Vinyasa to the very relaxing Gentle and Yin, depending on what suits best. I love helping the planet in any way I can, and I've found teaching yoga and how to live a healthy life is a great way to connect and share my passion with others.
Are you looking for corporate yoga or private yoga in Laval or Montreal?
Contact Santé Active 1-888-923-2448