Corporate Yoga & Private Yoga Laval and Montreal - Rachel Yoga Instructor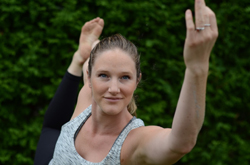 Are you looking for corporate yoga or private yoga in Laval or Montreal?
Let us introduce you to Rachel who teaches corporate yoga or private yoga classes in Laval and Montreal. She is passionate about life, humanity, and yoga. She completed her 380-hour training in Hatha and Vinyasa at Yoga Sangha in Montreal with Yogacharya Sylvie Tremblay. Rachel is also studying osteopathy at the Collège d'Études Ostéopathiques de Montréal, enabling her to increase her understanding of the anatomical, biomechanical and physiological of the human and apply those concepts throughout her yoga classes; to guide clearly and consciously creative asanas, in a safe and regenerative manner. 
Her mission is to "facilitate" people to regain their inner power, to create space through the breath to be willing to take up all the space that belongs to them. To better settle in « Self » while creating the movement to live healthily and be adaptive to the flow of life.
We offer corporate yoga & private yoga in Laval and Montreal
Contact Santé Active 1-888-923-2448