Corporate Yoga and Yoga for Seniors in Toronto - Nathaliya Yoga Instructor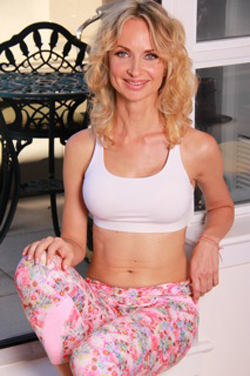 Are you looking for corporate yoga or yoga for seniors in Toronto?
Save time to look for a yoga instructor in Toronto. We offer corporate yoga and yoga classes for seniors in Toronto. Let Santé Active introduce you to Nathaliya.
There are many types of yoga to practice around Toronto. For example, Bikram yoga, as well as Moksha yoga, is done in a heated room with 26 and 40 postures respectively. Kundalini Yoga focuses on chakra awakening. Ashtanga yoga includes the series of about 75 poses.
I teach Sivananda yoga that takes a holistic approach. You will learn proper breathing, proper relaxation, warm up, prayer, twelve basic asana sequence and introduction to spirituality. There is a gentle flow, and we rest after each posture that is necessary to observe its benefits. 
When you are comfortable with the practice, I can add different variations. Each class lasts 90 minutes. A shorter class is possible upon request. There are four classes to take to master Sivananda yoga sequence.
My education experience interlaces India, USA, and Canada:
Yoga Teacher Training, Shivayogapeeth School, Rishikesh, India- 500 hr;
Yoga Teacher Training, Sivananda School, Rishikesh, India- 200 hr;
We offer corporate yoga & yoga for seniors in Toronto
Contact Santé Active 1-888-923-2448