Personal Trainer West Island Montreal - Olga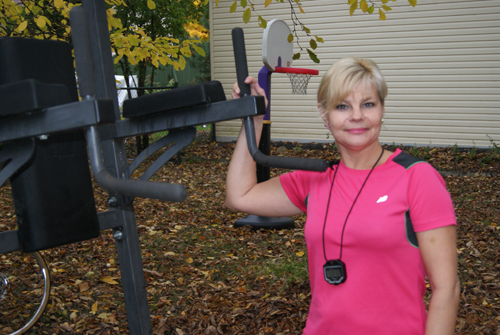 Find your personal trainer in West Island and Montreal
If you are looking for a personal trainer in the West Island or Montreal we can help you.  We have a team of professional trainers close to you. Let us introduce you to Olga one of our personal trainers in your area.
A dedicated certified personal trainer in Montreal for all your fitness needs, Olga conducts customized programs for functional fitness, weight loss, fitness boot camps, muscle building, and recreational therapy.
Olga has a bachelor degree in physical education from her native country of Russia, as well as a certification degree in Personal Training from TAV College in Montreal.
In her native country, she has worked for many years as an instructor in physical fitness and remedial gymnastics. In Montreal, Olga worked as a floor trainer at Curves. Prior to that, she has successfully completed an internship with the YMCA/YWHA fitness centre. Since her graduation from TAV, Olga has been working with a number of private customers in the greater Montreal area, especially on the West Island. 
Being a committed fitness professional, Olga has always enjoyed promoting a lifelong healthy lifestyle to others. She continuously strives to obtain the best results for her clients.
We have a team of Personal trainers in the West Island and Montreal
Contact Santé Active 1-888-923-2448