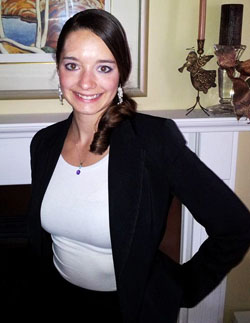 Are you are looking for a female personal trainer in Ottawa - Gatineau
If you are looking for a female personal trainer in Ottawa or Gatineau contact us. Let Santé Active introduce you to Mélanie one of our trainers in your region.
For an experienced motivator and fitness made fun at your home or gym
"I believe that every goal is attainable with the right tools and motivation. I can provide those tools and motivation, you provide the goals and together we will achieve them."
A Can-Fit-Pro personal trainer, Melanie has trained in competitive sports and athletics for over a decade. After retiring from competitive wrestling, she began successfully competing and training clients in a ballroom and latin dancesport. Accurate and intelligent sport-specific training in these sports gave her the winning edge over other competitors. Melanie's knowledge and experience in the various training disciplines for performance, as a result, is extensive.
Melanie has found that the self-discipline and knowledge that she brings to the table from her own sport and dance training has been invaluable in motivating and instilling discipline in her clients. She is a master motivator. Her focus on building healthy habits and her ability to understand where clients are coming from gives her the edge as a trainer. Melanie tailors programs to the needs, abilities, and tastes of individuals. She finds fun, creative and innovative ways to make exercising fun and enjoyable for her clients.
Melanie's services include:
Weight Loss
Fitness Transformations
Sport Specific Training (Including marathons)
Hypertrophy (Muscle-Development)
CPR and Can-Fit-Pro Certified
Bilingual
Group Training Sessions
"Nothing thrills me more than to be a part of someone's journey to a new you. I'd love to be a part of your journey!"
We can help you find a personal trainer in Ottawa or Gatineau
Contact Santé Active 1-888-923-2448