Find a personal trainer near you in Ottawa or Gatineau
Our personal trainers are available in Ottawa / Gatineau no matter where you prefer to train - at home, the gym, the office, or elsewhere. Santé Active's personal training services eliminate the need to travel and find a trainer in the Ottawa area. You can have a fit, active, energetic lifestyle. It's so easy!
Find the perfect in-home personal trainer for your needs!
We will find you a qualified fitness coach in Ottawa or Gatineau who meets your needs best. We provide in-home personal training services and our passion is helping you reach your goals and optimize your quality of life. Regardless of the equipment you have or don't have, we can offer the same superior quality of services that will help you reach your fitness and wellness goals.
They can bring with them the necessary equipment and expertise to help you get results and live a healthy life. Fitness sessions with our personal trainers are an appointment with your success to establish or maintain healthy lifestyle habits. They will teach you some simple and easy ways to incorporate exercise into your daily routine. They will motivate you to keep up with your workouts and keep active.
You can also train online with our trainers.
Whether you call us fitness trainers, personal trainers, or fitness coaches, our goal is to help you incorporate a healthy and active lifestyle.
With Santé Active, you can find:
Personal training for women in Ottawa and Gatineau
Personal training for seniors in Ottawa and Gatineau
Personal trainers for youth in Ottawa and Gatineau
Personal trainers in Ottawa and Gatineau
Affordable rates for personal training in Ottawa and Gatineau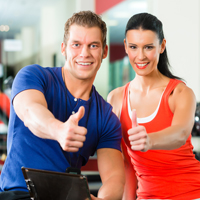 Find the right personal trainer for you in Ottawa or Gatineau

Contact Santé Active 1-888-923-2448