Nutritionist/dietitian in Toronto, Ottawa, Calgary or Montreal?
Need a nutritionist or dietitian who can come to your office or home? Dietitians and nutritionists from Toronto, Ottawa, Calgary, and Montreal will provide you with a personalized nutrition plan, whether at home or at your company, as well as informative lunch and learn on nutrition. If you wish to lose weight or improve your health, we can assist you in changing your eating habits so you can reach your goals.
HERE IS HOW OUR NUTRITION PROFESSIONALS CAN HELP!
1. Nutrition for a healthy weight management
Our registered nutritionists/dietitians will help you achieve weight loss that is healthy. You will receive the necessary tools to accomplish your goal and maintain it in the long term: • For obese or overweight people • To abandon slimming diets and slimming products • To discover the importance of foods.
2. Nutrition to maintain your cardiovascular health
Our nutritionists can help you to select the food which suits your taste and your needs, in order to restore your cardiovascular health. • Cholesterol and high triglycerides • High blood pressure • Angina and other cardiovascular diseases.
3. Nutrition to help you monitor your diabetes
Our nutritionists will bring you the help you need to select the best food to help control your diabetes, and so prevent yourself more serious health problems. • Gestational diabetes • Type 1 and 2 diabetes. 
4. Nutrition to improve your digestive health
Our registered nutritionists can help relieve your symptoms and improve your overall health conditions. • Celiac disease • Crohn's disease or ulcerative colitis • Inflammatory bowel disease • Constipation and diarrhea Gastric or duodenal ulcers • Gastroesophageal reflux disease.
5. Diet for women
Our nutritionists can help women to eat according to their nutritional needs, based on their life cycle. • Breastfeeding • Postpartum weight loss • Menopause.
6. Nutrition for persons with an eating disorder
Our nutritionists will be able to work as a team with the different parties in order to help people with eating disorders. • Anorexia • Bulimia • Binge eating.
7. Nutrition for athletes
A registered nutritionist from our team will be able to help you find the optimal solution for you, based on your sport and your lifestyle. • High-level sport and performance • Endurance sports • Muscle gain.
8. Allergies and food intolerance
One of our registered nutritionists can help you find alternatives to products containing allergens that are giving you problems and will ensure that you consume the nutrients your body needs, despite your allergies or intolerances. Our nutritionist experts will study your needs and will assess your current eating habits and your nutritional state. They will formulate short and long-term objectives to make sure you get healthy food at a reasonable cost. They will determine plans of action and will assess the effect the used strategies have on you.
For weight loss or improved health
Our team of nutritionists/dietitians in Toronto, Montreal, Ottawa, and Calgary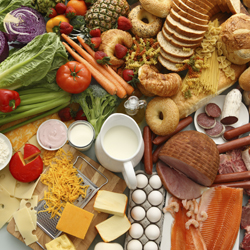 Contact Santé Active 1-888-923-2448