In-Home private Pilates and Pilates for seniors in Toronto, Montreal, Calgary, Ottawa
At Santa Active, we help clients find Pilates Instructors for private Pilates classes at home, Pilates classes at work in Toronto, Montreal, Calgary, and Ottawa. Providing Pilates lessons for seniors is another service we provide. If you are looking for Pilates instructors near you, contact us. Save time by contacting us now!
What is Pilates? A sequence of movements will be used to strengthen and stabilize your core on a yoga mat. In Pilates, there is a strong focus on technique and awareness. Your body will be strengthened and toned through Pilates, and your flexibility will be increased. We offer private and corporate Pilates classes in Toronto, Ottawa, Calgary, and Montreal.
We offer online Pilates Classes
As your muscles get stronger, you will gain flexibility and have a better posture. Pilates is not an aerobic exercise, which means you won't be out of breath during the class. It is an exercise that can help with injury rehabilitation. It's not an aerobic workout where you sweat. It's all about concentration and breathing, but you will definitely feel it in your muscles after each exercise.
You can choose the place and time for your Pilates classes.
If you wish, we can do a 60-minute or 45-minute class. Our instructors will adapt the class based on your fitness level and health condition. You only need a mat.
Make fitness fun by scheduling your own private or semi-private Pilates class with friends or family. Our instructors will bring you to the location that is most convenient to you. Our team of dynamic and energetic Pilates instructors will help you turn your workout into an effective and fun experience. Our private Pilates classes are available at schools, workplaces, and retirement homes.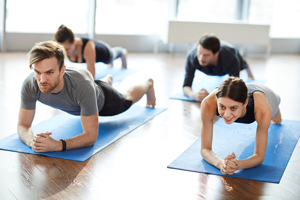 Private Pilates, Pilates for seniors and office Pilates, in Toronto, Montreal, Calgary, and Ottawa.

Contact Santé Active 1-888-923-2448