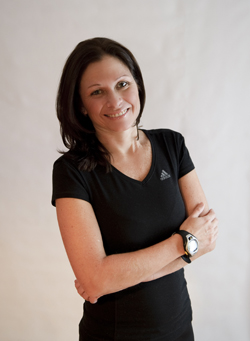 Save time and find a personal trainer in Ottawa and Orleans
If you are looking for a personal trainer in Ottawa or Orleans contact us. Let Santé Active introduce you to Paula one of our personal trainers in your area. She can also train people with special needs.
My name is Paula and I have been working in the fitness industry for over 10 years. I hold a degree in Health & Physical Education from Atlantic International University of Florida, I have a Diploma in Sports Conditioning from Peruvian Institute of Sports and I am Certified Personal Trainer from Can Fit Pro.
I have been helping people of different ages and fitness levels to reach their goals. Those goals vary from weight loss, muscle gained, deal with fibromyalgia/arthritis and mobility.
I am also a certified personal trainer for people with special needs as autism, Asperger, Down syndrome and borderline.
I have been working with these populations for over 5 years in Canada and Peru.
It is amazing the wonderful things these people can achieve through exercise. It helps them not only to be stronger and fitter but also to overcome obstacles, became more independent, increase self-esteem, get more involve into society among others.
Exercise is one of the things I enjoy the most, but being able to help those ones who really need our time and expertise is really a blessing.
Fitness is not the only exercise every day it is more than that. It is a lifestyle where is involve body mind and spirit. Positive attitude and appreciation of life.
We offer personal training for people with special needs in Ottawa and Orleans
Contact Santé Active 1-888-923-2448