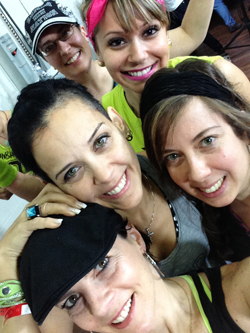 We offer private and corporate Zumba and Insanity classes in Laval 
Carla will deliver your private and corporate Zumba classes in Laval. After 2 pregnancies and 70 pounds overweight, Carla decides to join her local gym and instantly fell in love with the group fitness classes. Seeing her goals being reached and the happiness it brings her,  in 2010 she changes career and becomes an Instructor.
Today she's certified Zumba Instructor, Zumba Toning, Strong by Zumba, Fitness Instructor and Personal Trainer. Her goal is before all to motivate people to look forward to their return to class. 
For corporate and private Zumba and Insanity classes in Laval
Contact Santé Active 1-888-923-2448