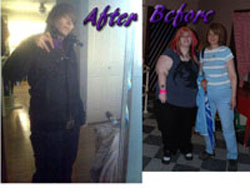 For your Zumba Classes at your workplace or Corporate Events in Gatineau and Ottawa
My name is Stephanie and I am bilingual (French and english). My journey started 3 years ago. I was 400lbs when I started this journey. That had been my heaviest. But, I turned a blind eye for years and years. I never wanted to get on the scale. My parents were scared that I would not wake up in the morning. But, of course, you cannot change yourself because someone else wants you to change ; it has to come from within. When I stepped on that scale and it neared the 400lbs mark, I got scared and I knew I had to change. My health was in jeopardy. And so, I started slowly. And by slowly I began to change my eating habits and I started to get active, a little bit at a time. I was only walking but, at that point, even walking was a challenge. Today, 235lbs lighter, I launched myself into my passion for dance that I lost along the way.
I can proudly say that I am healthier than I ever imagined I could be. My passion is to motive those around me, to show that if I can do it, anybody can do it. I want to share my passion with everyone (hopefully!) and I want to be able to change lives. Even if I help one person, to me, my job would be done. I've been teaching zumba classes for a year and a half, almost two years in may and I couldn't imagine myself doing anything else with my life!
Contact Santé Active
1-888-923-2448