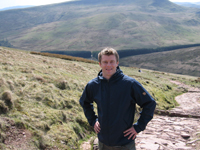 Find a personal trainer in Calgary SE
If you are looking for a personal trainer in Calgary SE let us introduce you to Neil one of our personal trainer in Calgary and he can train you at your home in the SE. We have a team of personal trainers and our training sessions are also available if you live in the NE, SW, and SE. 
I am a certified personal trainer and nutrition consultant with years industry experience since 2003 in the U.K. U.S. A. and Calgary, Canada, I have a diploma in personal training and diet and nutrition, as well as many certifications in health and fitness I have been an active, competitive soccer player representing my regional club back in the U.K. which has always been my main passion, I have enjoyed working as a part time soccer coach for many of years , I specialise in nutrition and weight management providing advanced assessments for individuals to help identify their goals and needs. 
I am experienced in nutritional advice and in particular sports nutrition for active people and amateur athletes, whether you are looking to lose body fat, transform your physique, correct a postural problem or to optimise the overall performance I would be more than happy to be your personal trainer and work with you...
Let us help you find your personal trainer in Calgary SE
Contact Santé Active 1-888-923-2448