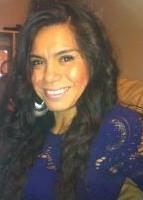 We have a personal trainer near you in Calgary 
Are you looking for a personal trainer in Calgary?  Let us introduce you to Veronica one of our personal trainer in Calgary. 
My studies in Holistic Nutrition at CSNN and Fitness Training at ISSA allowed me to apply simple and practical ways to fulfill my physical, mental and health goals, for myself and all the clients I have helped in the last five years of my career. I provide customized programs, recommending individual nutrients and training needs, instead of the standard cookie cut approach, because you are unique and you require an exclusive approach.
I struggled emotionally in the past with weight, skin and digestive problems and my sense of self-worth hit rock bottom at the age of 16 when I was diagnosed with an eating disorder. After many years of self-punishment and yo-yo dieting, my obsession with becoming thin came to an end at the age of 30, when I had my beautiful daughter.
Becoming a mother made me realize that I had a huge responsibility to live a healthy lifestyle not only for my daughter but also to help other teenagers and adults that are also experiencing the struggles I did. This is when I decided to change my career and focus all my energy towards learning about natural nutrition and fitness training.
I provide Free Consultation, where we can discuss your health concerns, needs or goals. I will educate and teach you how to apply sound nutrition and proper fitness training will impact your health and life, and help you discover the factors which are hindering your health or fitness goals.
One size does not fit all, and neither should be your nutrition and fitness program!
We can help you find your personal trainer in Calgary
Contact Santé Active 1-888-923-2448