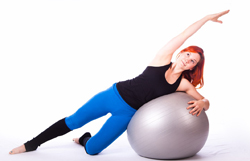 Are you looking for a personal trainer in Ottawa or Gatineau?
If you are looking for a personal trainer in Ottawa or Gatineau let us introduce you to Kelly one of our trainers in the region.
My name is Kelly, and I have been teaching in the fitness industry for ten years. I have a Bachelor of Kinesiology, Specialization in Health and Fitness from Acadia University and am currently enrolled at Algonquin College in their Early Childhood Education Intensive Program.   I am certified through Can Fit Pro for Group Exercise and Personal Training, as well as first aid and CPR + AED, certified through the Red Cross. My certifications and my degree give me a deep understanding of exercise physiology and sports psychology to work with you to improve your physical and mental health.
I have worked in gyms all across the world from the beginning of my career in Wolfville, Nova Scotia, to the island of Grand Cayman.  I ran my own fitness facility onboard cruise ships and taught nutrition and stress seminars along with teaching classes and training clients.  I returned to Ottawa and for the past two years have been working full time as a personal trainer and discovering the incredible Zumba® Fitness community.  I have an extensive background in training individuals of all ages and with a variety of fitness goals.  Whether you are looking to lose some body fat, gain strength, challenge your body, or recuperate from an injury, I can help you achieve success.
My personal motto for exercise is "if you like it, you will do it." The fitness world is massive and every day there is a new approach to gain your interest and motivate you to be successful.  My goal is to support your desired end result and find you a workout routine that works, that you enjoy, and that will challenge you.  I look forward to working with you!
Let us help you find your personal trainer in Ottawa or Gatineau
Contact Santé Active 1-888-923-2448