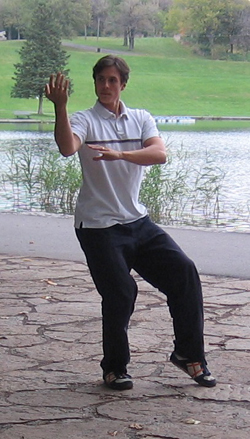 For a Tai Chi Instructor in the workplace or at your home in Montreal 
With 18 years of Yang Style Tai Chi practice (24, 48 and 108 posture forms), and 12 years of teaching in Montreal area fitness centres (Cummings Seniors Centre, YMCA's, Leonardo Da Vinci Center, etc.), I have the experience to tailor my instruction to your individual interests and constraints. My teacher graduated from the University of Beijing in Physical Education, and I hold a bachelor's degree in kinesiology from McGill; with these formal backgrounds I can instruct the meditation aspect of Tai Chi (sitting, standing in place or moving) or move into a detailed physiological program that introduces the mechanisms of benefit.
I specialize in delivering fitness instruction tailored to participants' individual constraints (e.g., Parkinson's, degenerative disk disease, post spinal column operation, general/specific weakness, injury, difficulty with balance), and am sure I can help you reach your fitness goals through Tai Chi.
Contact Santé Active
1-888-923-2448