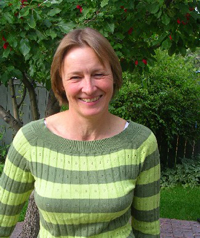 For Thai Yoga massages at your home or workplace
Certified by The Canadian School of Traditional Thai Therapy in Calgary; further training at Lotus Palm, Montreal; participation at workshops in Asia and Europe
Member of Thai Healing Alliance International (THAI,) registered with Natural Health Practitioners of Canada (NHPC)
Annette has been practicing Thai Yoga Massage for over 9 years. As a long time yoga student, she strongly believes in the complimentary benefits of Hatha Yoga and Thai Yoga Massage.
A holistic, preventive and complementary healing art, Thai Yoga Massage starts with slow and rhythmic compression along the body's energy lines stimulating life energy to circulate freely within the body. Joint mobilization, passive stretches, and applied Yoga asana follow to meet the body's need for movement. Thai Yoga Massage aids the body to release physical, mental and emotional tensions, thus leaves the receiver relaxed, yet energized.
Thai Yoga Massage is performed on a mat on the floor. Loose comfortable clothing is worn.
Contact  Santé Active 1-888-923-2448