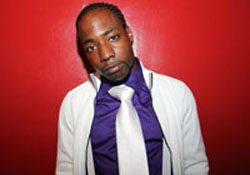 Zumba at your workplace or Corporate Event and Private Group in Gatineau and Ottawa
Hi my name is Duanse, my stage name is "Dee Ciple" but most of my close friends and participants call me just plain old "DEE" haha. My passion for dance is limitless. Dance is a huge part of my life and has helped me develop myself into the well versed, mature and experienced Instructor I am today. At a young age I started dancing for family members and friends, at events, community centers, and for schools. Many say that I was blessed with a gift. I'm just happy I can just "feel" the music and let "it" tell me what to do.
I have danced all my life for as long as I can remember. At the age of 8, I won my first dance competition. At the age of 17, I started teaching at Expressions Studios in Ottawa. At the age of 22, I started a very successful dance troupe called Dy-VERSE. For 6 years Dy-VERSE has made many strides proving their skills in and out of town, winning hip hop dance competitions, representing the Ottawa region at special social events and organizing many dance workshops, for kids, teens and adults of all ages. That being said my life revolves around dancing. In 2011 when teaching for Innovation school of dance in Nepean, I was privileged to be part of Shine Dance Competition where I placed 1st (Diamond) in the pro-am category in both the regional and national level back to back. That gave me the boost and confidence I needed to take my skills and experience to new heights. Throughout my growth as a performer I became more incline to learn and specialise in the different forms of dances. And that is when I decided to get certified to teach Zumba. After mastering the hip hop foundations such as breaking, popping, locking, ticking and crumping along with some of the social dances as well for example salsa bachata merengue, getting certified in Zumba in Dec. 2012 seemed like the right thing to do. Nowadays I encourage everyone to take my Zumba classes, I cater to many styles and my goal is for you to have a blast. If you have fun ... you will get results... My fitness formula is based on your enthusiasm and I have just the recipe. 
Duanse
Certified Zumba Instructor for Basic Level and Zumbatomic /
PHOTOGRAPHER /
PERFORMER / DANCER / CHOREOGRAPHER
Contact Santé Active
1-888-923-2448