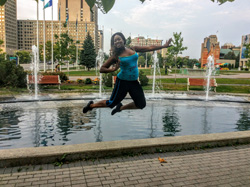 We deliver Zumba at your workplace or where it is most convenient for you in Ottawa
Alexandra developed an early interest in dancing and fitness growing up in east of Ottawa Ontario and Long Island, New York. From a young age and throughout teenage hood she was always figure skating, completing dances, and performances for talent shows and school assemblies. At the age of 12, she was the leader and teacher of the dance program at her elementary school in Eastern Ontario.
She decided to receive her Zumba certification after a friend, a fellow accomplished Zumba instructor told her that she had what it takes to become a Zumba instructor and motivate others to achieve their fitness goals through dance and aerobics while inspiring people to stay active. She believes her work ethic, passion as well as her empowering ways of teaching allows her to stand out as an instructor.  She recognizes that the three D`s, Drive, Determination, and Discipline are necessary to actualise fitness goals. She looks forward to meeting and instructing a vast array of individuals while helping them execute and an energetic lifestyle while enjoying themselves.
Contact Santé Active
1-888-923-2448