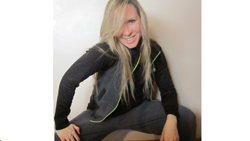 For Corporate Zumba or Zumba Classes at your School in Montreal 
Let Santé Active introduce you to Jessica who offers corporate Zumba and Zumba classes in schools in the Montreal region.  She is a certified Zumba instructor since 2015. She has danced many different styles of dance since the age of four. She has an advanced background in hip-hop dance, teaches hip-hop dance in schools, and has always had a very big passion for dance and for fitness and health. She now teaches Zumba at various Gyms in Montreal, does shows and fundraisers for special events such as Le Fête National, The Canadian Cancer Society, and at school events.
She has animated for various events such as the end of the year party for the Soccer Association of Pointe aux Trembles, Parents and child groups and much more!
For Corporate Zumba or Zumba Classes at your School in the Montreal Region
Contact Santé Active 1-888-923-2448