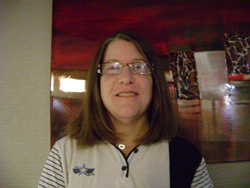 For a mobile physiotherapist at your home in Montreal
Pamela has been a physiotherapist for the past 26 years.  Graduate with honors from McGill University and a background in Medicine from Queen's University.  She has worked with patients with conditions in neurology, orthopedics, and cardiorespiratory.  She has dedicated her practice in educating her patients to stay active in hopes of living a healthy lifestyle.  She offers a wide range of services including  such as patients after strokes, Parkinson's, sport injuries, post-surgical conditions such as total knee and total hip replacements and a whole lot more.  She believes in educating her patient's about their particular condition so they have the best chance of returning to their prior state.  She also believes that prevention is the best medicine.  She has worked in both the public and private sectors.  She continues her education by taking courses on a yearly basis to keep up to date with the latest techniques.
She offers services in neurology, orthopedics, and cardiorespiratory.  In neurology she helps patients after strokes to regain use of their paralyzed limbs, helps with balance problems, and helps with activities of daily living.  Other examples in neurology are Parkinson patients to help reduce the rigidity in their muscles and maintain their strength and  function.  In orthopedics, Pamela helps patients post-surgical, for example post total hip and total knee replacements through exercises to help increase range of motion and strength and return them to walking without any technical aides such as a walker or cane.In cardiorespiratory some examples are COPD, cystic fibrosis, etc to help clear the lungs of secretions.  These are only a few examples of the conditions which Pamela can treat.  The list is long so why not consult Santé Active today to see if she can help you with your particular condition.
Back, Neck and Head Pain
Knee and Hip Pain
Orthopedic Injuries
Joint Stiffness
Arthritis
Osteoarthritis
Tendinitis
Bursitis
Epicondylitis
Postural Imbalances
Fractures, Sprains and Strains
Contact Santé Active
1-888-923-2448