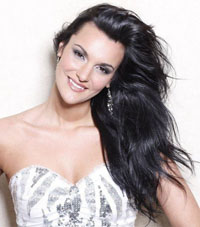 We offer workplace Zumba classes in Gatineau and Ottawa
if you are looking for workplace Zumba in Ottawa or Gatineau let us introduce you to Julie. She has a never-ending passion for danse. Nothing in the world would take that away from her. She has been teaching Bellydancing, Jazz and Zumba for many years. In addition to devote body and soul to the transmission of her passion to young people and the not so young, she is a professional belly dancer and does social dance competition in which she excels. 
Julie won the « Star Quality Award » for best talent at the prestigious Miss Universe Canada pageant and she also won the tile of « Miss Talent » at the Miss Earth Canada pageant. Not only did she perform on all the stages in the Outaouais region, she was a semi-finalist on the television show Canada's Got Talent. 
Certifications for Zumba, Zumbathomics and Zumba Core
For workplace Zumba in Gatineau or Ottawa
Contact Santé Active 1-888-923-2448