Fitness and Zumba Instructor in Toronto - Leena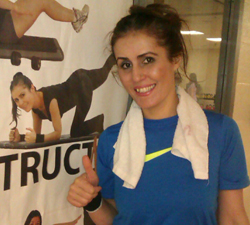 Corporate fitness and Zumba instructor in Toronto
If you are looking for corporate fitness classes or corporate Zumba in Toronto we have a team of fitness instructors near you. Let us introduce you to Leena one of our fitness instructors in the Toronto area.
I had a passion for fitness since I was very young, been in gymnastics in high school and have practiced many sports. I'm very friendly, energetic, enthusiastic, helpful and humble.
I love to share my experience, energy and help others so they can achieve their goals. 
I am a certified Group Fitness, Aerobics, Zumba, Pilates and Yoga instructor, a strength trainer, with over 3 years of experience.
My goal is to help my clients to stay fit, healthy and active. When I see them happy with a smile and feeling good saying thanks at the end of the class, I love my job.
Let's have fun while we are working out together, burning calories dancing, enjoying the music and never really feel like we are exercising.
For corporate fitness classes or Zumba
Contact Santé Active 1-888-923-2448