Find a personal trainer near you in Ottawa or Gatineau
Santé Active helps you find a personal trainer in Ottawa or Gatineau. Our in-home personal training service will help you save time because you will no longer need to travel for your fitness sessions. We will find a qualified fitness coach near you in the Ottawa or Gatineau region that suits your needs best. Save time with our team of personal trainers near you.
Your dream of a fit, active, energetic life is within reach. Your desired lifestyle awaits you. Wherever location you want to train, outdoors, home, gym, office or other.  It is simple! 
To be matched with the best personal trainer for you in Ottawa 
Our in-home personal training services optimize your life satisfaction! Our passion is helping you reach your goals and optimize your quality of life. Whether you have the equipment or not, we are able to offer the same superior quality of services that will help you achieve your fitness and wellness goals. They will bring with them the necessary equipment and their expertise to help you get results and live a healthy life. Fitness sessions with one of our personal trainers in Ottawa or Gatineau are an appointment with your success to create or maintain fitness habits. They will help and motivate you so you can stay fit and keep doing your workouts regularly and being more active. They will teach you simple and easy tricks to insert into your daily routine.
Get effective personal training sessions with our fitness coaches
Whether you call us fitness trainers, personal trainers or fitness coaches, our task is to get you in shape safely and help you incorporate a healthy and active lifestyle.  
With Santé Active you can find: 
Personal trainer for women in Ottawa and Gatineau
Personal trainer for seniors in Ottawa and Gatineau
Personal trainer for youth in Ottawa and Gatineau
Personal trainer for men in Ottawa and Gatineau
Affordable personal training rates in Ottawa and Gatineau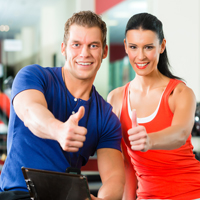 Train with the right personal trainer in Ottawa or Gatineau

Contact Santé Active 1-888-923-2448