Private Pilates and office Pilates in Toronto, Montreal, Calgary, Ottawa
Save time!  We offer private Pilates at your home and office Pilates to your workplace in Toronto, Montreal, Calgary, and Ottawa. We can help you find the right Pilates instructor for your needs.
What is Pilates?  On a yoga mat, you will do a series of movements that will stabilize and strengthen your core. The moves take precision and control; there is a strong emphasis on technique and awareness. With Pilates, you will get stronger toned with a focus on your core and it will help your flexibility. Our private in-home and corporate Pilates classes are available in Toronto, Ottawa, Calgary, and Montreal.
We offer online Pilates
You will get stronger, more sculpted muscles and gain flexibility. You may also have better posture and a better sense of well-being. Pilates is not aerobic which means you will not be out of breath during the classes. It can be effective for injury rehabilitation. It is not the type of workout where you sweat. It's all about concentration and breathing. But you will definitely feel it in your muscles during each exercise.
We can organize your Pilates classes at the place and time of your choice
We can teach 45 minutes or 60 minutes class. Our instructors will adapt their classes following your health condition and fitness level. All you need is a mat.
Create your own Pilates classes with friends or family and our instructors will make you exercise at the location that is most convenient for you. Chose our dynamic and energetic team of Pilates instructors for a fun and effective workout. For Pilates classes at your workplace, your school, your senior retirement home or for private classes.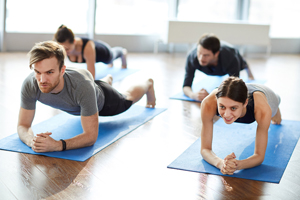 For private Pilates, office Pilates and Pilates for seniors in Toronto, Montreal, Calgary, and Ottawa

Contact Santé Active 1-888-923-2448