Private yoga at home and yoga for seniors in Toronto, Ottawa, Calgary, Montreal
Are you looking for in-home private yoga or yoga for seniors in Toronto, Ottawa, Calgary or Montreal?  We can help you to find the best instructor for your needs. Contact us and we will organize your yoga classes! Our yoga teachers are passionate about teaching and they offer a unique approach to their yoga classes following your needs.
We can help you to save time finding your yoga instructor and we can optimize your time. Lower your stress level, boost your mood and relax by bringing yoga classes directly to you, at a time and a location that is convenient for you. Recharge and invigorate your mind and body, while improving your overall health and well-being.
We can also provide you with meditation sessions at home or at your workplace.
We optimize your time and health!
We can help you find a yoga instructor in Toronto, Calgary, Ottawa or Montreal
9 health benefits of Yoga
Increases flexibility
Improves muscle tone and strength
Improves your posture
Helps you focus
Relaxes you
Gives you inner strength
Improves Brain Function
Boost Memory
Save time and reduce stress
We offer several types of yoga:
Vinyasa Yoga - Popular and is taught at most studios and gyms."Vinyasa" means linking breath with movement.
Ashtanga Yoga - Traditional Indian yoga. Like Vinyasa yoga, the Ashtanga yoga asanas (postures) synchronize breath with movement as you move through a series of postures.
Power Yoga - It is a more active approach to the traditional Hatha yoga poses. The Ashtanga yoga poses are performed more quickly and with added core exercises and upper bodywork.
Yin Yoga - It is a meditative practice that allows your body to become comfortable in a pose without doing any work (strength).
Chair yoga - It is a type of yoga practiced on a chair adapted for offices with small spaces or for people with mobility conditions.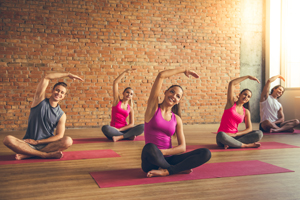 Private yoga and yoga for seniors in Toronto, Ottawa, Calgary or Montreal

Contact Santé Active 1-888-923-2448