Pilates Instructor Toronto - Fahmida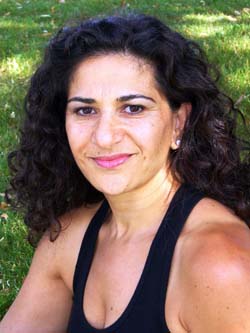 Are you looking for private or corporate Pilates classes in Toronto?
If you are looking for Private Pilates or Corporate Pilates in Toronto Contact us.  Our Pilates instructor Fahmida has been teaching movement for 12+ years. She trained and received her certification in IMT, Pilates Mat, and Reformer at Second Wind Pilates Plus (Port Credit, Ontario) by Daniele Belec in 2005. Fahmida continued her education with numerous Pilates workshops at Body Harmonics Pilates, including her Caddilac and Chair certification in 2016. She received her personal training and holistic lifestyle coaching certifications from the CHEK Institute ( Vista, California) in 2007/08. While working as a personal trainer Fahmida was introduced to the world of fascial work and became a Fascial Stretch Therapist thru the Stretch to Win Institute ( Tempe, Arizona) in 2010. She discovered The Melt Method ( NYC, N.Y.) and trained as a Hand & Foot instructor in July 2013, and full MELT instructor in June 2014. She's one of Toronto's very few Melt Method instructors.
Continuing with her training in fascial work Fahmida completed 2 teacher training workshops in the Roll Model Method – The Science of Rolling and Ball Sequencing and Innovation on her way to becoming a Roll Model Method Practitioner.
Fahmida is also pre/post natal specialist with expert training in Diastasis Recti reconditioning/rehabilitation.
She currently works as a freelance Pilates instructor teaching corporate classes, private sessions in her private loft studio as well as teaching privates at Boomerang Pilates and Vitality MD. She was part of the clinic and a senior faculty member at Body Harmonics while maintaining a teaching schedule for 7 years.
Fahmida was a freelance photographer working in Toronto and abroad for over 15 years and knows first hand the effects physically demanding work can have on the body. It's this that brought her to find a way of helping herself to stay healthy, well, and strong for the long term.
We offer home private Pilates and corporate Pilates lessons in Toronto
Contact Santé Active 1-888-923-2448