Pilates and Essentrics Instructor Toronto - Alexandra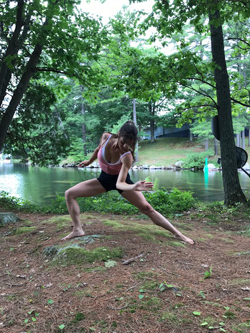 We offer corporate Pilates and corporate Essentrics in Toronto
Our team of instructors can teach Pilates and Essentrics® to corporations in the Toronto area. Let Santé Active introduce you to Alexandra who is part of our team of Pilates and also she is an Essentrics® instructor for GTA more specifically to Markham, Thornhill, Richmond Hill, and NorthYork. Our services are also available for private classes.
PILATES INSTRUCTOR, ESSENTRICS® INSTRUCTOR, BARRE INSTRUCTOR
Alexandra is a caring and knowledgable instructor with over a decade of experience. Her early start as a trainer in a large gym pushed her to pursue Pilates as a primary method for her clients as she quickly learned that everyone required this foundational conditioning to succeed, in and out of the gym.
In addition to private training, Alexandra leads amazing group classes tailored and/or modified for every level. It is her passion to deliver flowing and energizing sequences that effectively address the entire body.
Alexandra is an Essentrics® Instructor and a great advocate of the method. Essentrics® is a dynamic workout that simultaneously lengthens and strengthens every muscle in the body, resulting in greater joint mobility and lean, long muscles. Inspired by Tai Chi, Ballet, and Physio Therapy and set to all types of great music, it is an amazing and effective way to reshape and rebalance the entire body at any age.
Along with her personal experience, research and education, Alexandra is adept in Postpartum Pilates training and working with clients who have Diastasis Recti. She is very qualified to help women and mothers with their specific fitness needs.
Classes offered:
Essential Pilates on the Mat
Pilates Sculpt and Tone
Postpartum Pilates
Mama and Baby Pilates
Pilates Barre
Essentrics® Stretch and Tone
Essentrics® Ageing Backwards
Essentrics® Barre
Essentrics® Release, Rebalance, Restore
Let us help you organize your Corporate Pilates or Essentrics Classes in Toronto
Contact Santé Active 1-888-923-2448