Kinesiologist & Personal Trainer Toronto (GTA) - Rudi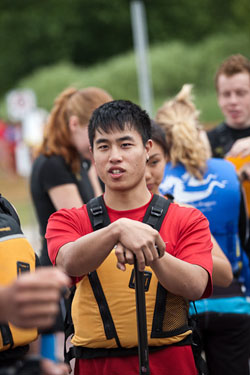 Are you looking for a personal trainer & Kinesiologist in Toronto
We specialized in personal training and we have a team of certified personal trainers near you in Toronto.  Let us introduce you to Rudi one of our trainers in the Toronto area.
Rudi has been in the fitness industry since 2007. His passions in the fitness industry stem from helping others achieve their fitness goals. The gratification of helping one reach their fitness goals is the greatest reward in the world. Rudi is a certified personal trainer in Toronto under the Canadian Society of Exercise Physiologist and has completed his Bachelor degree of Arts Specialize Honors in Kinesiology. Rudi has an extensive knowledge in rehabilitation and is aspiring to become a chiropractor.
Besides his passion for fitness, he also enjoys the competitive sport of dragon boat racing. Through hard work, months of intense training, and dedication, he was named onto the Canadian Under 23 National Team. He had the honor of representing Canada in Tampa Bay during the summer of 2011 to compete in the World Dragon boat Championship.
Canadian Society of Exercise Physiologist - Certify Personal Trainer (CSEP CPT) Working in Toronto
Completed University level course Clinical Biomechanics also a Kinesiologist in Toronto
For personal training in Toronto
Contact Santé Active 1-888-923-2448