Personal Trainer Calgary - Justin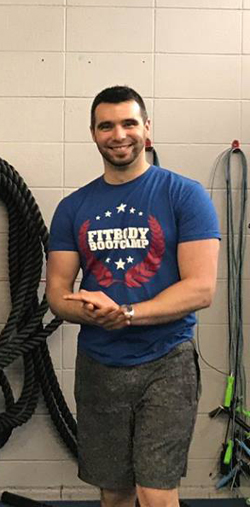 Are you looking for a personal trainer in Calgary?
Let Santé Active introduce you to Justin one of our personal trainers in Calgary. Our overall health should be our first priority, especially in a fast-paced, and unfortunately unhealthy environment such as our own. I truly believe in fitness, and the quality it brings to your life. I also believe that nutrition is one of the most important factors in order to allow our fitness to help us strive, and I also live by the quote, "Thy Food is Thy Medicine". I have enjoyed being active my whole life, and truly believe that a body in motion, stays in motion; which is a theory I dedicate my career to in order to help others live a quality, and prolonged life.
I specialize in strength and conditioning, sport specific training, and overall wellness/functionality. I enjoy Boxing, Hockey, and even writing music for my psychological and emotional well-being. Fitness has helped me change my life for the good, and I plan to continue to succeed in my field by helping others.
MY CREDENTIALS:
Certified Personal Trainer under the Canadian Society for Exercise Physiology
(CSEP-CPT)
PWR Moves Certification (Parkinson Wellness Recovery "Lead" Instructor)
Cancer Exercise Specialist
Graduated from the Fitness and Health Promotion Program, Niagara College
Standard First Aid and CPR + AED Level C
Are you are looking for a personal trainer in Calgary?
Contact Santé Active 1-888-923-2448