Personal Trainer Toronto - Eric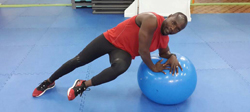 Save time finding your personal trainer in Toronto
We have a team of personal trainers in Toronto.  Save time finding your trainers for in-home personal training in Toronto.  Let us introduce you to Eric one of our fitness coaches.
Eric is a personal trainer in Toronto and after his master's degree in physical education and sports in 2001, he began teaching in the high school and colleges in Ivory Coast.
In 2005, he obtained a Certificate of Deepening of Biomechanical Knowledge and a Master's Degree in Psychology the following year. He will, therefore, be admitted to teaching at the National Institute of Youth Sports.
The passion for sports, the practice of physical activities and the well-being of others will enable him to collect several fitness certificates. He gave fitness classes from 2002 until June 2016, when he decided to immigrate with his family to Canada.
Eric is a bilingual CanFitPro Certified Trainer, he has worked in many countries and international institutions as UN. He is capable to adapt to any situation.
For him, a client must respect the time and follow every movement without any distraction because he wants them to get the maximum benefits out of his classes. He likes to be very interactive in his classes by talking and explaining the benefits of all movements. He demonstrates all the movements by doing them together with the clients to get them motivated. Very perfectionist and meticulous in what he does, also he likes to give them an experience which makes them look forward to the next class.
Eric, your TRAINER will have the necessary capacities to enable you to reach your different objectives: Do you want to reduce the risk of cardiovascular disease? Promotes joint stability? Increase muscle mass and decrease body fat? Reduce depression and anxiety? Increase good cholesterol (HDL) and decrease bad cholesterol (LDL)? Improve body image and self-esteem? ... Join Eric every day, anytime to achieve your goal. 
If you are looking for a personal trainer in Toronto 
Contact Santé Active 1-888-923-2448