Personal Trainer Toronto - Janice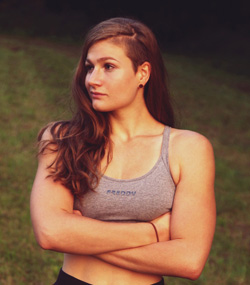 Save time looking for a personal trainer in Toronto
We have a team of personal trainers and if you are looking for a fitness coach in Toronto we can help you. Let us introduce you to Janice one of our personal trainers in your area.
As a personal trainer and psychologist, Janice helps you take care of your mind and body in a compassionate yet effective manner.
Having been 30 pounds overweight during university, Janice knows how hard it can be to adopt healthy habits and how confusing all the information out there can be.
Janice became very committed to being healthy, studied everything she could on fitness and nutrition and eventually became certified as a personal trainer. With a diploma in personal nutrition, a background in mindfulness and an MSc in psychology, Janice takes a holistic approach to help you reach your fitness and health goals. "Mind and body are intimately connected and working with both can accelerate your progress."
As your trainer, Janice focuses on methods that build strength, burn fat and build confidence in a time-efficient manner while mostly just using your own bodyweight. You will work hard, and you'll learn to love your body, get results and understand that fitness is so much more than reps, sets and calories."
As a psychologist, Janice helps you through any mental barriers that are slowing you down and help you stick to your new healthy habits. You will build a body and mindset that are strong, healthy and lean.
Janice's own movement practice includes callisthenics, capoeira and dance. She is currently enrolled in the Agatsu Lower Body Joint Mobility & Movement certification course to learn more about building a strong, resilient body. 
Find a personal trainer near you in Toronto
Contact Santé Active 1-888-923-2448