Personal trainer Toronto - Keith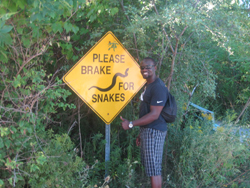 Find your personal trainer in Toronto
Let us help you find your personal trainer in Toronto. We have a team of fitness coaches near you.  Let Santé Active introduce you to Keith one of our trainers.
Hi, my name is Keith and I am an in-home personal trainer in GTA.  For me, fitness and wellness are not just a profession for me it is a lifestyle--God-given way of life.  I have over three years of experience, in personal and small group training, health/life coaching, and consulting.  Certified in Bodyweight, Suspension (TRX), and Personal Fitness Training, and online personal training As well as Health Coaching (UDemy).  Educational background in Social Work & Counselling (BSW/ACDC, Humber College).  
I have an earnest desire to transform lives through educating clients to the very best of my abilities, in all practical life applications, fitness, and sports, empowering them to maintain their peak potential. I possess excellent interpersonal and communication skills, the ability to be supportive, discreet and non-judgmental about individual's lives and
aspirations, a good level of fitness health, a responsible attitude to health and safety, and proficient organizational skills to maintain accurate discipline as a Personal Trainer, are some of the assets I would bring to you. 
As much as I love to cultivate a life of fitness and wellness, I am just as passionate about encouraging and helping others to aspire and cultivate the same mode of lifestyle.  I am an independent Fitness Coach 20/80".  20% fitness, 80% life skills--100% way of life. 
If you need a personal trainer and you live in Toronto
Contact Santé Active 1-888-923-2448