Personal Trainer in Toronto - Zeena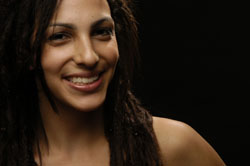 Are you looking for a personal trainer in Toronto?
If you are looking for a personal trainer in Toronto contact us and save time.  We have a team of trainers near you and they can train you at your home or office.  Let us introduce you to Zeena one of our personal trainers.
Zeena has been enthusiastic about movement from a very young age. After completing her degree in the Dance program at York University in Toronto, she moved to Montreal to continue her training as a professional contemporary dancer at L'école de dance Contemporaine. Zeena has since developed a strong sense of athleticism, artistry, technique, body awareness and movement.
Zeena is a dynamic and enthusiastic trainer who will motivate you toward achieving your goals. She will provide you with the tools to give you confidence and knowledge that you can apply to train for the rest of your life. Specializing in functional training, she offers a variety of exercise styles. From a somatic approach (training the nervous system through refined movements) to an explosive, 'Boot Camp' style approach (incorporating plyometrics, circuit and interval training), she will keep you stimulated, motivated and challenged. Injury prevention, posture, and alignment are always a priority.
If you are looking for a female personal trainer in Toronto
Contact Santé Active 1-888-923-2448