Private Yoga Montreal and Anjou and Corporate Yoga - Anna Yoga Instructor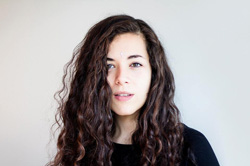 Are you looking for private yoga or corporate yoga in Montreal and Anjou
We offer corporate yoga and private yoga delivered to your office or home in Montreal.  Let us introduce you to Anna one of our yoga instructors in Montreal and Anjou.
Anna completed her International Yoga Teacher training in Ancient Hatha Yoga with the Patanjali Yoga Foundation at the mouth of the Himalayan mountain range in Rishikesh, India. She began practicing yoga at a time of her life whereby physical mobility was very limited due to health issues. With practice and dedication to yoga, fitness and mindful nutrition, her health changed drastically and rapidly for the better. Due to this change, helping others adopt a healthy lifestyle, gain mobility and most importantly self-confidence and inner peace has been her main goal and devotion. She remains a foodie and has recently begun training for road bicycle racing. Her curiosity and thirst for life and learning are endless. Her goal is to spread the gift of Yoga and the practice of mindful living across the community and beyond.
We deliver corporate and private yoga in Montreal.
Contact Santé Active 

1-888-923-2448