Zumba Instructeur in Toronto - Geethanjali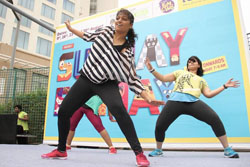 We offer corporate Zumba and private Zumba classes in Toronto
Are you are looking for a Zumba instructor to teach corporate Zumba or private Zumba classes in Toronto? Let Santé Active introduce you to Geethanjali one of our instructors in the Toronto area.
"Imported from India" and currently living in Toronto, Geethanjali (Anjali) has been dancing since the age of three.  Anjali's early dance background was in Classical Indian Dance, Bollywood and Hip Hop.  Latin Dancing was added to her résumé in 2008. Anjali has been a member, choreographer, has performed all around the world and has also worked as Dance Fitness Consultant. Her passion for dance runs deep and is clearly visible in the way she teaches and shares her dance skills with others.
She teaches both kids and adult classes in Bollywood, Latin Dance, and Zumba Fitness. Anjali believes in building a strong foundation starting with the fundamentals in all styles of dance. She focuses on proper technique, body movement, building confidence on the dance floor, and just having fun while dancing and getting fit. Anjali is an international artist and has had the opportunity to share her passion for dance and fitness with people all around the world.  Apart from teaching Zumba Fitness for 6 years, off the dance floor, Anjali has a Masters degree in Aircraft Structures.  Sharing the passion with Aircraft and Zumba is going hand to hand she is loving every moment of it.
If you are looking for corporate Zumba or private Zumba in Toronto
Contact Santé Active 1-888-923-2448