Zumba Instructor Markham and RIchmond Hill - Winni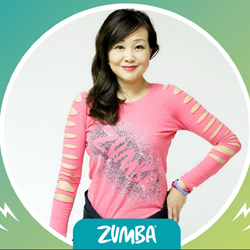 Are you looking for corporate Zumba classes in Markham or North York?
We deliver corporate Zumba classes in Markham, North York and Richmond Hill,  We have a team of Zumba instructors near you. Let us introduce you to Winni...
My name is Wini.  I am a licensed Zumba instructor and qualified to teach Zumba Gold, Zumba Kids, Zumba Toning, Zumba Step, Zumba Strong, Aqua Zumba and Zumba Sentao. I have at least 6 years of Zumba teaching experiences in private classes, fitness centres and senior homes. I am very passionate about dancing, as I have enjoyed it since I was a kid.  I have been doing Zumba demo in lots of community events such as Toronto World Vision 6K Walk, Community BBQ, Taste of Asia and some other charity events.  
The way I lead my classes is filled with lots of fun with different types of Latin dance and International dance movements in order to motivate my participants. I have a degree in Computer Science and IT is my profession, so I really understand how exercise is important to balance our work and wellness.
Please feel free to contact Santé Active if you are looking for a Zumba instructor for your corporate or private event!
That's not SWEAT You're just leaking AWESOME.
Corporate Zumba classes in Markham and North York

Contact Santé Active 1-888-923-2448