Zumba Instructor Montreal - Franklin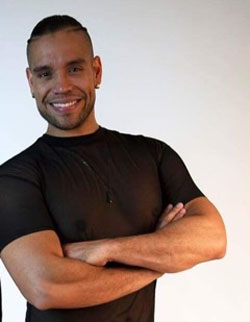 Are you looking for a corporate Zumba Instructor in Montreal, Laval, Longueuil or Gatineau?
If you are looking for corporate Zumba in Montreal, Laval, Longueuil or Gatineau let Santé Active introduce you to Franklin one of our Zumba instructors in Montreal.
Hello, my name is Franklin. I was born in Venezuela in the city of Caracas. I lived there until when i was 8 years old because my mother needed to change the place of her job to another city. I grew up in the city of Maracay.
During my time at school, I realized my passion for dancing. I started to watch videos and learn alone until I could pay for my first course of dance when I was 16 years old. With the period of the time, I discovered that I loved to help people and also I liked the area of health but more specifically the human behavior. I Studied Psychology for 5 years at the university and in 2012 I received my diploma as a Psychologist in the industrial area. But at the same time while I was studying I was dancing for many companies as a dancer and teaching in many gyms in my city latin cardio. When I got my diploma as a psychologist I started to work in a manufacturing company as a human resources analyst and also I started to work as a teacher in the same university but I never stopped dancing.
I moved to Montreal 5 years ago and I brought my passion for dancing and Latin choreography to various gyms and studios. I have been working as a dancer for almost 11 years. I have highly experience as Latin dances teacher and certified Zumba instructor, Zumba toning instructor, Cize Live instructor and Salsation Instructor. I have been working on that for almost 4 years here in Montreal and working as a dancer in different places. I'm currently teaching Zumba at the YMCA in guy Favreau and Metgym Sherbrooke. I worked for the studio Musique et Danse in Verdun for 4 years where I was the front desk coordinator (Monitoring and adjusting types of classes and times to meet the interest and needs of customers at the studio. Also, I was the head Zumba instructor and Latin dances, classes. I worked for 2 years as a professional performer for a company that calls Lana Rey Cabaret where we performed in a different theatre like Dix30 in Broussard, Olympia, National, Cabaret Mado and every Saturday I was performing in Verdun in the lunch cabaret for the same company.
In conclusion, I'm a professional, hard working enthusiastic and very reliable. I'm very passionate about my work and I love to teach Zumba.    
For corporate Zumba in Montreal, Laval, Longueuil or Gatineau
Contact Santé Active 1-888-923-2448