Personal Trainer in Toronto and Richmond Hill - Anna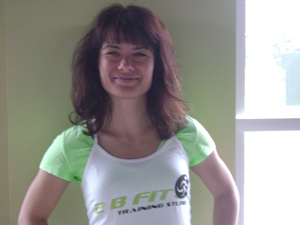 Find a personal trainer in Toronto
We have a team of personal trainers in Toronto and we offer corporate and in-home personal training in Toronto and Richmond Hill. Let us introduce you to Anna one of our personal trainers and Zumba instructors near you.
I have been in the fitness industry for over 18 years and love to be a personal trainer.  I enjoy sharing my passion for health and fitness with anyone who is ready and willing to change their lives for the better.  Group exercise and personal training are my specialties.  My inspiration comes from the smiles on people's faces when they start to see the changes happening to their bodies and feeling better about themselves from the inside out.  One step at a time is what is required to achieve goals and reach new limits. 
I originally became certified in Zumba fitness in 2008 and decided to recertify in 2010.  I have been teaching Zumba fitness since then.  Zumba fitness brings a happy, inviting and fun vibe to the room.  Exploring all flavors such as salsa, merengue, reggaeton, hip-hop and much more in one class.  You will have so much fun that you won't even think you are exercising.  Come dance with me. I can train you or make you dance in my private fitness studio located in Richmond Hill. As you can read I am a personal trainer and also a Zumba Instructor.
If you are looking for a personal trainer in Toronto
Contact Santé Active 1-888-923-2448