Corporate Fitness Classes Online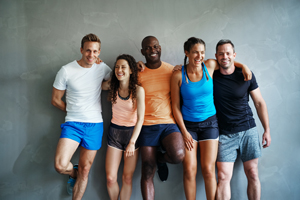 Online corporate fitness classes in Toronto, Calgary, Ottawa and Montreal
In order to keep your employees fit and healthy, Santé Active offers online fitness classes for companies.  With Santé Active you have a choice of several classes. 
The online fitness courses we offer for corporations:
Yoga
Pilates
Boot Camp
Zumba
Tai Chi or Qigong
Meditation
and more...
Why choose our online fitness classes? It's very simple! Your employees need to stay physically active and since most of them work from home one solution is to offer them a choice of physical activities.  They will be happy being able to be active from their home while being able to meet with the other members of your team.
We offer live fitness classes with certified instructors.
Our teachers are all certified in their field and will know how to help your group to stay fit and healthy. our corporate fitness classes can be offered on Zoom, Google Meet, or Microsoft Team.
Our COVID solution to help your troops to exercise. These fitness classes are offered to Canadian businesses and are the most popular physical activity classes in the industry.
Our profession? We help employees to stay healthy with fitness and wellness services.
For corporate fitness classes online

Contact Santé Active 1-888-923-2448