Personal Trainer Calgary - Christina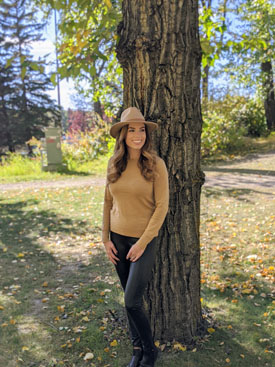 Are you looking for a personal trainer in Calgary?
In Calgary, we have a team of personal trainers. It doesn't matter if you work out at home, in a park nearby, or at the gym in your condo. We can help you find a fitness trainer in Calgary. Christina is one of Santé Active's personal trainers in Calgary.  
I have always been passionate about health and wellness which eventually brought me to get my personal training and nutritional certifications. I have tried everything from spin, yoga, barre, to various fitness class studios. After giving birth to my daughter, I started focusing on strength training. I completely fell in love! It changed my body and mind. I learned how to TRAIN and knew I wanted to help others evolve and gain the power and strength that comes with strength training. Not only for the physical positives but for the mental ones too. My mantra for my clients is progress over perfection. 
Nutrition is also a big part of my life. A healthy gut fuels a healthy body and mind. You should love the way you eat. Food is so much more than just fuel. My mission is to educate and inspire others to be the best versions of themselves and find balance to truly love the life they are living
For a personal trainer in Calgary

Contact Santé Active 1-888-923-2448