Zumba Instructor in Ottawa - Kelly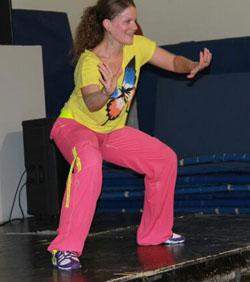 Zumba Instructor for your workplace, your school or private Zumba in Ottawa
My name is Kelly, and I have been teaching in the fitness industry for ten years. I have a Bachelor of Kinesiology, Specialization in Health and Fitness from Acadia University and am currently enrolled at Algonquin College in their Early Childhood Education Intensive Program. 
I moved to Grand Cayman after university to work in the fitness industry and then joined cruise ships. For 5 years I travelled all over the world working on two different cruise lines running the fitness program as well as working with the youth programming team. I returned to Ottawa and for the past two years have been working full time as a personal trainer and discovering the incredible Zumba® Fitness community. I volunteer at many fundraising events throughout the city for adults and children. Most recently, I spent this past summer volunteering at a not-for-profit childcare centre in Quito, Ecuador where I incorporated Zumba® fitness into my programming.
Zumba® fitness is an incredible way to exercise, increase your cardiovascular health, and simply let loose and have some fun.  ABSOLUTELY NO DANCE EXPERIENCE IS NEEDED!  Just come on out and move to the beat. I cannot wait to join the party with you!
If you are searching for a Zumba instructor in Ottawa or Gatineau
Contact Santé Active 1-888-923-2448