Personal Trainer & Kinesiologist Montreal - Fabbiano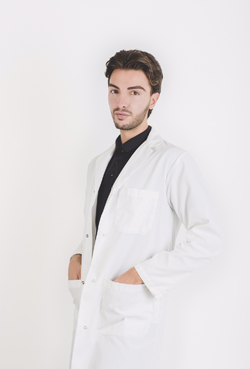 Are you looking for a personal trainer or a Kinesiologist in Montreal?
If you are looking for a personal trainer or a kinesiologist in Montreal we can help you to save time.  We have a team of personal trainers and kinesiologists in Montreal who can train you at your home.  Let Santé Active introduce you to Fabbiano a member of our team of trainers.
Bachelor of Science (Kinesiology) at McGill University
Diploma in Manual Osteopathy (DOMP) at National Academy of Osteopathy
Associations:

Osteopathic Chronic Pain Clinics of Canada (OCPCC)
Alliance Canadienne de Medicine Alternative (ACMA)
Fabbiano uses an array of gentle manipulations to aid with the body's natural healing process while constantly adapting every treatment, as every individual is unique. After having suffered from exertion migraines and receiving treatment from an osteopath with a kinesiology background, he became quickly inspired and eager to heal the many pains and imbalances related to different systems in the human body. Throughout his bachelor of science (kinesiology), Fabbiano has worked in many different settings with various populations – from stroke patients to cancer patients to able-bodied athletes. These experiences allowed him to engage members in decisions pertaining to achieving and maintaining prime health while integrating both kinesiology and osteopathy domains to provide optimal treatment plans. From headaches and migraines to sprains and tendinitis, to bloating and indigestion – Fabbiano has your back!
Save time finding a personal trainer or kinesiologist in Montreal
Contact Santé Active 1-888-923-2448