Personal Trainer Calgary - Charmaine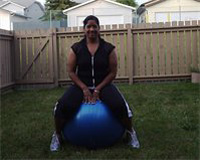 Are you looking for a personal trainer in Calgary SW? 
If you are looking for a personal trainer in Calgary contact Santé Active. Our team of personal fitness trainers can train you at your home. Let Santé Active introduce you to Charmaine one of our trainers in Calgary.
An, IT Business Analyst by day, Charmaine became passionate about fitness, after losing ~60lbs & wearing a bikini for the first time in her 40-some yrs. Becoming a Certified Personal Trainer and practicing in Calgary has been a dream come true, but in the past 3 years, this dream has evolved, Charmaine has become more than a personal trainer. Today as a Fitness & Wellness professional, her goal is to facilitate, educate, inspire, support, coach, and motivate her clients to be the best that they can be. Favorite saying "You are stronger than you think you are, and there is nothing that you can't do, you just have to believe in yourself, 'cause it's all an inside job".
Charmaine considers herself a coach, and is committed to helping her clients achieve and maintain all their goals, fitness or wellness, as a whole i.e. mind, body & spirit, she is a Holistic Fitness Professional.
A client comes, not just with their body, but with all of their life experience, so when I work with them, I try to look after the whole you to strengthen your body, educate your mind, & feed your spirit.
• Fav Activities & toys include: Functional strength/resistance training, TRX, Tubing, TurboJam & Fitness Kickboxing, Off-Road Running, Spinning; any fitness activity that teaches you to move your body more efficiently and purposefully; educating & coaching the world on fitness & wellness; any techy gadget or fitness tool that fits in my bag of tricks that will make my client smile!
Certifications & Specialisations:
Personal Trainer Calgary Specialist (Can-Fit-Pro)
Functional Anatomy Level 1 (Can-Fit-Pro)
Resist-A-Ball Level 1 (Can-Fit-Pro)
Fitness Kickboxing: PT Basics, Basic Instructor (Level 1), Adv. Instructor (Level 2) (Fitness Kickboxing Canada Inc.)
Sports Nutrition Level 1 (Sports Medicine Council Of Alberta)
Certified Spinning Instructor (Madd Dogg Athletics)
Assessing ROM & Posture (Can-Fit-Pro )
TRX Suspension Certification (Fitness Anywhere)
Functional Training (Can-Fit-Pro )
CPR Level A (Can-Fit-Pro )
Reiki Practioner Level 1 & 2 (Andrea Thatcher)
Reflexology Level 1 (Joan Cosway-Hayes/Footloose Press)
Certificate in Adult Education (University of Calgary)
Save time and let us help you find your personal trainer in Calgary SW
Contact Santé Active 1-888-923-2448