Personal Trainer Calgary - Tarwinder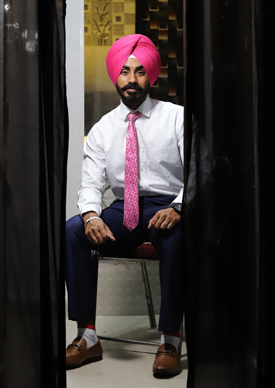 Are you looking for a personal trainer in Calgary, Airdrie, or Chestermere?
Santé Active can help you. Our team of personal trainers works in Calgary and the surrounding areas, so we can save you a lot of time. The trainers will help you set realistic goals to improve your health and your life.  We are pleased to introduce you to Tarwinder who works with us in Calgary.
My name is Tarwinder and I have multiple certifications including Personal Trainer, Nutritionist, DNA-based fitness coach, Exercise Therapy, Youth fitness, and Strength and conditioning. I will provide you with the best service of the era and help you enjoy yourself along the way.
It's no secret - fitness training has been proven to prevent disease, strengthen your health and improve your confidence and outlook on life. As a certified fitness trainer, I'm deeply trained in everything from muscle mechanics to flexibility and cardiovascular dynamics. So if you want to live a stronger and more confident life, I've got the training and the expertise to help you every step of the way. I can speak a couple of languages so I love to work with diverse age groups and people from different communities.
Whether your goals are weight loss or athletic performance-based, your genetics are the only constant the workout program should be based on! As a certified specialist in this area, I can provide you with a genetic test to uncover your individual needs. Based on those results I can build a personalized fitness and nutrition program removing all the guesswork to help you achieve your goals.
Certifications:
Specialist in exercise therapy - ISSA
Specialist in nutrition - ISSA
Specialist in Personal Training - ISSA
Program Design - ISSA
Strength and conditioning specialist - ISSA
For a personal trainer in Calgary, Aidrie and Chestermere

Contact Santé Active 1-888-923-2448